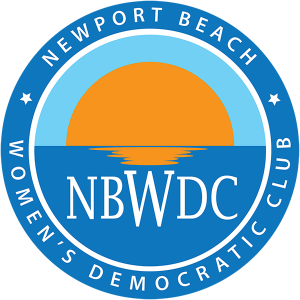 Serving the Democratic Voice of
Newport Beach
and Neighboring Communities
Follow @NBWDC on Facebook, Instagram & Twitter
2020 Election Central
Resources & Action Opportunities
Democratic Party of OC 
Endorsements & Ballot Measure Recommendations
League of Women Voters
California Ballot Measure Recommendations
Newport Beach City Council Elections 

Note: This is a nonpartisan election.
The only Democratic candidate in this race is late-breaking write-in candidate
Piper Benom Sherwood who is opposing District 7's incumbent. 
If you have questions about the NB City Council candidates, contact NBWDC. 
For information only
Newport Beach City Council Candidate Forum Videos
Moderated panels designed to access candidate preparedness on issues of interest and importance to residents and businesses
NB Chamber of Commerce
Speak Up Newport
West Newport Community Association
CdM Residents Association
Your Call to Action. 
Sign up for one or more of these options.  No time to lose.  This is the election of our lifetime … all hands on deck!
For volunteer opportunities to:
Write Letters to Editors … a variety of local press outlets for your consideration
Write local voter letters and postcards
Make phone calls … our greatest need in this COVID-19 environment

Get your free sign when you:
Sign up for our Signage Taskforce (facilitate getting local candidate and Biden/Harris signs to as many voters as possible)
So easy with ActBlue!
Or use this mail-in form if by check
Writing Letters to Editors
Mailing Address & Phone
Newport Beach Women's Democratic Club
P.O. Box 11761
Newport Beach CA 92658
Voicemail or Text @ (949) 423-6468