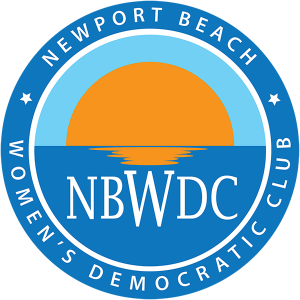 Advocating for Democratic values
in Newport Beach
and neighboring communities
Follow @NBWDC on Facebook, Instagram & Twitter
OUR FINAL PUSH TO NOVEMBER 3!
We hope you will help us move the needle this one last time. We are so close to achieving our goal of overwhelming blue victories on November 3. 
We cannot afford to overlook even one vote!  This is the election of our lifetime.  It's now or never; together we can do this.

Thank you for your continuing energy and support!
Note: The following events are in lieu of our  October monthly meeting.  We'll plan to meet again after the election.
A WIN FOR DAVE MIN
Pop-up Contactless Lit Drop
Saturday, October 24, 10 am – 12 pm
Address provided when you RSVP
HANG 30 – OUR FINAL GOTV PUSH
Contactless Materials Pickup
Tuesday, October 27, 2020
Address provided when you RSVP
We need YOU!  Sign up to distribute 30 door hangers to residents who have not yet voted.  This is the last chance to remind voters there is no time to lose, and one last chance to remind them who their Democratic candidates are.
In addition to the door hangers, we will distribute information about Newport Beach City Council candidates who deserve your vote, including District 7 Democratic write-in Piper Benom Sherwood who is one of several challengers running against Team Newport-backed candidates.
IT'S NOT TOO LATE.
We have made a real effort to fund new, exciting and proven GOTV efforts for this critical election.  With two weeks to go, we are still getting materials out to voters.  Each and every donation toward this effort is greatly appreciated.
A Call to Action
Protect Women's Healthcare Choices
The following is a message from our Founding President Dr. Suzanne Savary and founding member Beryl Smith who were both active during the protests against Hoag Hospital after they banned abortion services several years ago.  They ask each of us to forward the following message to our network of family and friends who share your desire to remove restrictions to women's healthcare services.  Thank you for supporting their request and for taking action to protect women's choice for healthcare services.
Dear Friends,
Hoag Memorial Hospital Presbyterian needs your help. We have an important opportunity to improve health services for women.
Ever since Hoag affiliated with Providence St. Joseph, a large Catholic healthcare system, restrictions have been placed on women's health services, and other services such as those around the end of life.
Hoag doctors have complained about difficulty in getting authorizations when prescribing IUD's and other contraceptive and obstetric services, and efforts to steer their decisions about care that are not always aligned with Hoag's best practices.
Constraints such as these have led Hoag to seek to end its affiliation with Providence St. Joseph's. Attorney General Xavier Becerra and his office have an important role in this decision. He and his staff have heard from Hoag doctors. Now they need to hear from the community about the need for an independent Hoag that can make decisions locally in Orange County without being subject to religious constraints of a large out-of-state health system.
We are writing to ask if you could please take a minute to send a letter of support to the Attorney General's office. It is very simple to do this. Click on the link below to review the letter, fill in few pieces of information, add optional personal comments and click "Add Your Voice!"   
ROUND 3:  THIS IS WHAT WE TRAINED FOR! 
2020 DROP 50 & POSTCARDING
Round 3 is now closed.  Thanks to all our volunteers who so willingly donated their time, energy and postage to the last round of our formal postcard campaign.  Stay tuned for additional GOTV activities between now and Election Day.
Reminders
If you are still working on getting your postcards finished,  
… 1st Class Postage (55 cents) is required for any piece that is mailed.
… Best windows for delivering or mailing your cards:
…… before September 25 or
…… between October 9 and October 25
… Remember, if you are hand-delivering your cards, it is unlawful to
    put our cards in a home's mailbox. You may leave it under their
    mat or attach to the door handle with a rubber band. 
… Wear a mask if you plan on knocking or ringing the bell.
Completed
Round 2 (Defeat McConnell & Retire Graham)
Thanks to so many of you who signed up to help.  If you haven't returned your postcards yet, please do so as soon as possible.  We are in the process of bundling and mailing to Kentucky and South Carolina voters.
Round 1 (Goodby Jim Jordon and Devin Nunes)
Thanks to you, 9,000 postcards were written and sent to Ohio and Fresno, CA! And here's just one example of proud volunteers making sure these postcards find their way to voters.
If you subscribe to NBWDC's email newsletters and alerts, you will receive information about how to sign up to participate in this activity from the safety of your own home. Watch your inbox for details coming soon.
If you are not on our email list, you can sign up here. 
Or Contact Us here with your questions. 
The Newport Beach Women's Democratic Club stands in solidarity with 
Selected resources for anti-racism and social justice information, donations and actions.
COVID-19 Updates & Information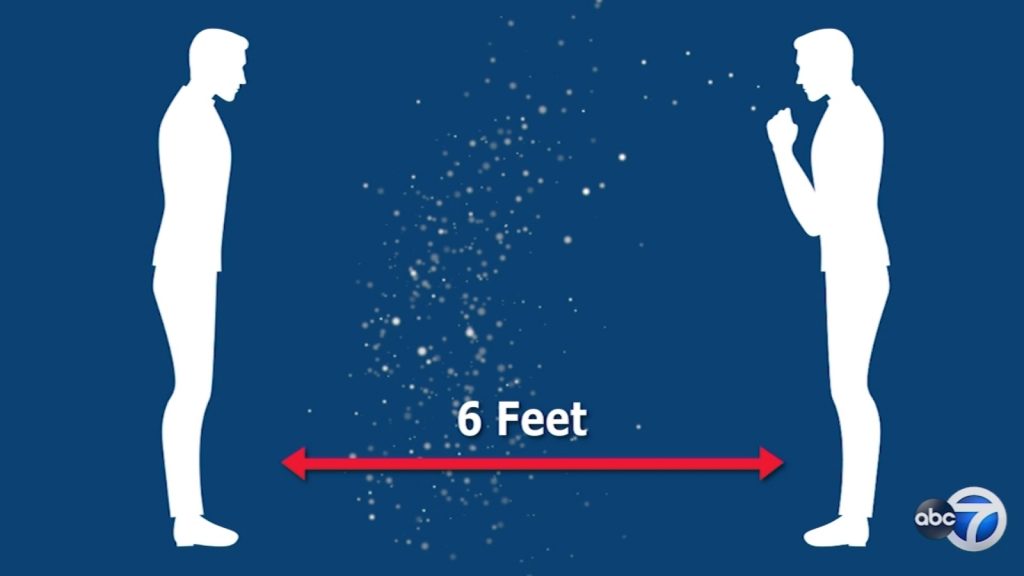 NBWDC has cancelled all in-person meetings, activities and events until further notice due to COVID-19 mandates issued by Governor Newsom and our OC Health Department. 
We are investigating ways to engage our members and friends through a variety of online tools and resources.  Visit our website often as we will post these opportunities as soon as we are able to make them available for you.
It is vital that you follow the official COVID-19 recommendations to social distance and avoid all public places where crowds congregate, regardless of age, wash your hands frequently for at least 20 seconds and shelter in place if you are 60 years of age or older.
Stay safe … stay socially and responsibly distant to flatten the curve sooner than later!  How important is that?  According to Hoag Hospital's CEO, here's why:
"Each person who self-isolates reduces their risk of infecting others dramatically. In 30 days' time, a single individual who does not practice social isolation runs the risk of infecting 406 people with coronavirus. By reducing physical contact by 75%, that individual's infection risk plummets to 2.5 people."
Hoag CEO Robert Braithwaite's entire letter is available here for you to read.  And we encourage you to do so.
Cities close parks, beaches, parking lots, boardwalks and more
Each city updates their websites daily, particularly their COVID-19 dedicated web pages.  Consistent monitoring of your city's website is the best way to keep abreast of its latest news and updates.  
Kudos to the City of Newport Beach for creating an entire ONLINE Recreation Center for its residents of all ages.  Classes, games, skills … all available virtually here.
If you need help with shopping and transportation, please ask.  The City of Newport Beach is maintaining its OASIS meal deliveries and transportation services for senior citizens, as well as special assistance for homebound seniors.  Call the City's Senior Services Dept. at (949) 644-3244 between 8 a.m. and 5 p.m. Monday through Friday.
Many of our local restaurants, while closed to dine-in customers, are offering curb-side pickup and delivery.  Your local Chambers of Commerce lists these restaurants on their websites; for example, Newport Beach Chamber and Corona del Mar Chamber.
Trusted COVID-19 Resources
World Health Organization (WHO)
Centers for Disease Control (CDC)
Orange County Health Department
City of Newport Beach
City of Costa Mesa
City of Huntington Beach
City of Irvine
Additional information and resources are available here
News from Governor Newsom
State requirements for essential services and stay-at-home guidelines
Orange County Health Department Updates and Guidelines
Masks and face coverings … Make your own LAT article
If you have questions or concerns, or you need assistance in any way, don't hesitate to contact us and we will help you find the resources you need to stay healthy. 
Please follow the current restrictions and guidelines, and stay safe.  
NBWDC Board
Congratulations are in order!
Newport Beach Mayor Will O'Neill declared 2020 as the "Year of the Volunteers", and he plans to recognize Newport Beach organizations and individuals who go above and beyond.  We are proud that two of our members (so far) have received this important recognition, Join us in thanking them for their service to the Newport Beach community.
NBWDC Member Barbara Sloate was recognized at the January 28th City Council meeting for her many years volunteerism with the Friends of OASIS. 
NBWDC Board Member Karen Tringali was recognized at the February 25th City Council meeting for her many years of volunteerism with the Corona del Mar Residents Association, as well as a number of other civic organizations in the city (including NBWDC).
Congressman Lou Correa recognized Rima Nashashibi, former NBWDC President, as "Woman of the Year".  Rima will be honored along with other distinguished women from our community on Saturday, March 28, 11:00 a.m., at Chapman University's Memorial Hall. And we have all been invited to attend the award ceremony and reception.  RSVPs are required; please do so here.  Rima is also being recognized by OC Business Journal as one of their top OC businesswomen at a luncheon on April 30.  See here for more information.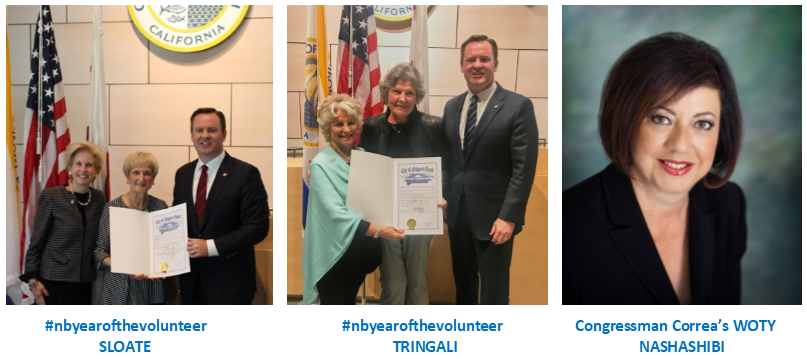 Voters & Candidates & GOTV
Voter Registration

Since the last election, have you:
Turned 18 and plan to vote in the upcoming elections
Changed your address
Decided to change your party affiliation
If you answer yes to any of these questions, don't forget to register or update your voter registration. There are several helpful online tools and forms which can be found here at OCVote.com.
New OC Voting Procedures for 2020
2020 voting procedures will change, allowing more options and more voter-accessibility.  For information on new Vote Centers, Voting by Mail and more, read here.
Help us GOTV for November 2020
Your financial support, large or small, will help us fund our Newport Beach campaign support office, materials and events; all crucial in turning out the biggest number of Democratic voters ever!  
Ways to connect with NBWDC
Mailing Address & Phone
Newport Beach Women's Democratic Club
P.O. Box 11761
Newport Beach CA 92658
Voicemail/Text @ (949) 423-6468
Membership Has Its Benefits
Please Join Today
Receive full Member benefits, such as voting rights, members' only news, invitations to special events and free admission to our monthly meetings.. 
3rd QUARTER NEW MEMBER SPECIAL
Sign up anytime between October 1, 2020 and December 31, 2020, and your membership will be valid effective immediately through December 31, 2021.  Too good a deal to pass up!
Membership is valid for from January 1 through December 31 each year.    Several membership categories are available (see below).  And you may conveniently pay for your Annual Membership by either credit card or by check.
Membership options include:
$50: Self-identified women registered as a Democrat

Regular Member with full voting privileges

$40: Any gender/any party affiliation

Associate Member with limited voting privileges

$20: Student Membership

Full-time students only with valid ID
And we offer three easy payment options:
Still not sure you want to join? 
Take a look at all we've accomplished over the last couple of years . . . and having fun while we did!
Member Contact Information
Have you moved or changed any of your contact information?
We are required by our Club Charter to maintain accurate contact information for all our members of record.  If you have recently moved, changed your name, email address or phone number, please let us know so that we do not violate our charter requirements.
We have two convenient ways for you to let us know of these changes:
Thanks for helping us be in compliance with the California Democratic Party requirements.
2020 Club Officers & Committees
Officers
President:  Tara Steele
Vice President: Cate Hardesty
Treasurer: Mikelle Fish
Secretary:
….Corresponding Secretary: Deborrah Lugo
….Recording Secretary:  Karen Tringali
………Assistant Recording Secretary: Maureen Rust
Officer Positions Available 
…. Recording Secretary: 2-year Term
…. Corresponding Secretary: 2-year Term 
…. Assistant Treasurer: 1-year Term (Board appointment) 
Please apply here
Committees  
View our Committee Listing here
By-Laws
Adopted April 16, 2019 
Summary of April 2019 approved changes
Privacy Policy
Available here
Past President Roster
Immediate Past President: Rima Nashashibi 
Past President: Mridula Udayagiri
Past President: Jean Hastings Ardell
Founding President: Dr. Suzanne Savary
Committee Opportunity
Our club's mission is to provide a forum for civil political discussions and promote and participate in activities that help educate members about local, regional, and national issues.  One way to  help support our mission is to serve on a committee.  We have many opportunities for you to showcase your skills and passion.  For example:
Communications & Social Media
Events Planning
Membership Outreach 
Governmental Activism 
Voter Outreach . . . and more
If you have an interest in any of these areas, please let us know.  Send us an email or leave us a phone message (949.423.6468) and the appropriate committee chair will respond to you directly.
Speak Up!
Letters and calls to our legislators, letters to editors, Social Media postings, conversations with friends.  These are all important tools to help get the word out and building support for issues that are important to women and Democrats.  Find an issue you are passionate about and do your part to join in the conversation.
Local Press Contacts

Elected Officials – Federal and State

#StandwithPP Campaign (Planned Parenthood)
A Powerful Video – Marginalized Voters on a Global Scale

"Why Labour lost the election" by George Monbiot
George Monbiot is a British writer known for his environmental and political activism. Though he was born to privilege he is known for his writing on the effects of corporate greed on the environment and the political process. In this video he shares his opinion regarding why all over the world peoples appear to be voting for marginal and autocratic individuals rather than competent leaders. His analysis really gives the viewer pause to think about what is the cause of democracies behaving in an inexplicable way. It is his opinion and not everyone will agree with what he has to say, but it is an interesting perspective.  Our thanks to long-time NBWDC Member Saboohi Currim for sharing this powerful video with us.
Newport Beach City Government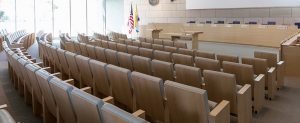 City Council Meeting Recaps
By Kathy Andrews 
NBWDC Government Activism Committee Chair
City Leadership Email Addresses
Our Mission
Our mission is to provide a forum for civil political discussions and promote and participate in activities that help educate members about local, regional, and national issues.
Our Club
The Newport Beach Women's Democratic Club was formed by a small group of like-minded Democratic women who were brought together by their desire for civil discussion around political issues. Within a short time, our club grew and became a notable presence in the Orange County Democratic community.
We promote democratic values through activism.  Our work includes get-out-the-vote efforts, presence at community events, and sponsoring forums for Democratic candidates as well as candidates for non-partisan offices.  We also speak publicly and take part in demonstrations. 
Club membership is open to women who are registered Democrats.  We also welcome registered Democratic men as non-voting associates.  While most members live in Newport Beach, we also value those from surrounding Orange County communities.
At our meetings and events, we welcome those who wish to be benefactors of our Club regardless of party affiliation.
For more information about our Club and Membership, please fill out the Contact Us Form above.
Our Privacy Policy is available at http://www.nbwdc.org/privacy-policy/
Our Accomplishments
The Newport Beach Women's Democratic Club was chartered by the Democratic Party of Orange County in February 2008.  Since then, we have accomplished much.  Here are a few of the highlights: 
Hosted 2016 Candidate Forums for Federal, State, Local and City elections
Worked directly with local elected officials to help support important legislation
Worked as a founding member to create the California Alliance of Democratic Women's Clubs
Supported our founding president's campaign for 48th Congressional District in 2016 and 2014
Staffed the Democratic Party of Orange County's voter registration booth at the Orange County Fair each year
Recognized by Planned Parenthood in 2015 as part of the OC Women's Coalition for work against abortion bans
Participated as a partner in the OC Women's Coalition against abortion bans at Hoag Hospital after its affiliation with St. Joseph's Catholic Hospital
Joined women's groups from around the county in 2014 to protest the U.S. Supreme Court's Hobby Lobby decision
Honored as Coalition Partner of the Year in 2011 by Planned Parenthood of Orange and San Bernardino Counties for our support of their organization.
Newport Beach Women's Democratic Club
Post Office Box 11761
Newport Beach, CA 92658
NBWDC.org
Voicemail/Text: (949) 423-6468
Paid for by the Newport Beach Women's Democratic Club, FEC ID# C00570168