Upcoming Club Meetings
Our Club Meetings are open to Members, Guests and Friends.  We meet on the 3rd Thursday of every month, except for July when we are dark.  The December Club Meeting is a social gathering to celebrate the Holiday Season. 
Please check below for upcoming meeting details. 
2016 Meeting Schedule & Speakers:  Available here 
AUGUST SUMMER SOCIAL
DATE:  Thursday, August 18, 2016 
TIME:  5:30 P.M. Business Meeting | 6:30 P.M. Summer Social 
LOCATION:  Provided when you RSVP
FOOD/BEVERAGE:  Provided
PROGRAM: A bit of business and a lovely summer evening socializing with friends and collegues
RSVP APPRECIATED: Email NBWDC here
AGENDA:  Pending  
SEPTEMBER CLUB MEETING
NEWPORT BEACH CANDIDATE FORUM
[City Council & Newport-Mesa School Board]DATE:  Thursday, September 15, 2016 
TIME:  5:30 P.M. Networking | 6:00 P.M. Candidate Forum & Club Meeting 
LOCATION:  TBD
FOOD/BEVERAGE:  TBD
PROGRAM: Candidate Introductions, Moderated Questions & Audience Q&A
RSVP APPRECIATED: Email NBWDC here
AGENDA:  Pending
---
JOIN OR RENEW – DON'T DELAY
We invite you to join as a Member or Associate Member.  Membership is valid for the current calendar year (January through December). 
If you are already a Member and have not yet renewed your membership for this calendar year, please do so without delay to receive full membership benefits.  
Our Application/Renewal Form is available here.  Simply fill out the form, attach your check, and mail it or bring it to our next event.  We look forward to hearing from you. 
---
2016 Club Officers
President:  Rima Nashashibi
Vice President: Open
Corresponding Secretary: Deborrah Lugo
Recording Secretary/Membership:  Karen Tringali
    Assistant Recording Secretary: Patty Gwin
Treasurer: Patty Healey
    Assistant Treasurer: Mikelle Fish
Immediate Past President: Mridula Udayagiri
Past President: Jean Hastings Ardell
Founding President: Dr. Suzanne Savary 
---
Questions or Comments?
Please fill out the form below to contact us by email. 
Mailing Address & Phone
If you prefer to contact us by mail, please do so at the following address:
Newport Beach Women's Democratic Club
P.O. Box 11761
Newport Beach CA 92658
You may also leave a voicemail message at 949.423.6468.  We will return your call within two business days.
Our Mission
Our mission is to provide a forum for civil political discussions and promote and participate in activities that help educate members about local, regional, and national issues.
Our Club
The Newport Beach Women's Democratic Club was formed by a small group of like-minded Democratic women who were brought together by their desire for civil discussion around political issues. Within a short time, our club grew and became a notable presence in the Orange County Democratic community.
We promote democratic values through activism.  Our work includes get-out-the-vote efforts, presence at community events, and sponsoring forums for Democratic candidates as well as candidates for non-partisan offices.  We also speak publicly and take part in demonstrations. 
Club membership is open to women who are registered Democrats.  We also welcome registered Democratic men as non-voting associates.  While most members live in Newport Beach, we also value those from surrounding Orange County communities.
At our meetings and events, we welcome those who wish to be benefactors of our Club regardless of party affiliation.
For more information about our Club and Membership, please fill out the Contact Us Form above.
Our Accomplishments
The Newport Beach Women's Democratic Club was chartered by the Democratic Party of Orange County in February 2008.  Since then, we have accomplished much.  Here are a few of the highlights: 
Each year we staff the Democratic Party of Orange County's voter registration booth at the Orange County Fair
We joined women's groups from around the county in 2014 to protest the U.S. Supreme Court's Hobby Lobby decision
We participated as partners in the OC Women's Coalition to speak out against the ban on abortions at Hoag Hospital after its affiliation with St. Joseph's Catholic Hospital (Planned Parenthood recognized OC Women's Coalition in 2015 for our collective efforts)
We worked directly with local elected officials to help support important legislation
We hosted a spirited discussion among candidates for Newport Beach City Council in the 2014 Election Cycle
Our founding president ran a valiant campaign for the 48th Congressional District with the support of our club
Planned Parenthood of Orange and San Bernardino Counties honored our club as Coalition Partner of the Year in 2011 for our support of their organization
---
August 8 2016 – Steyer Luncheon (CEO NexGen) Topic: Climate Change & Social Justice
L to R: Ardell, Savary, Steyer, Humphreys | Templeton, Hailey, Geerling | Ardell, Savary | Savary, Steyer, Humphreys, Stephens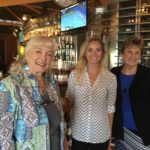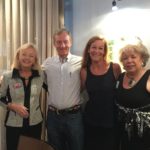 ---
May 2016 – State and Local Candidate Forum
L to R: Udayagiri, Kahn, Ali, Fox, Blair, Pinkston, Grayson, Nashashibi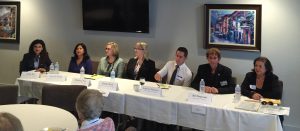 April 2016 – Federal Candidate Forum
L to R: Wolf (for Dunn), Gallagher, Nashashibi, Einwechter for Sanchez, Savary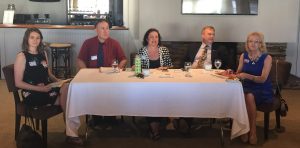 ---
December 2015 NBWDC Holiday Social
Celebrating our past accomplishments | Looking forward to a politically important year | Supporting our Democratic women candidates

Outgoing President Jean Ardell (l) and Incoming President Mridula Udayagiri (r)
Incoming President Mridula Udayagiri (l) and Outgoing President Barack Obama 
---
September 2015 NBWDC Meeting
L-R:  Barbara Shelton (NBWDC Recording Secretary) John Chiang, California State Treasurer, Jean Ardell (NBWDC President),
Patricia Healy (NBWDC Treasurer), Deborrah Lugo (NBWDC Corresponding Secretary), Saboohi Currim (Assistant Treasurer)  
---