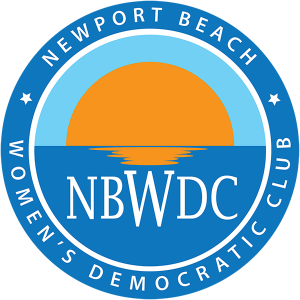 Serving the Democratic Voice of
Newport Beach
and Neighboring Communities
Follow @NBWDC on Facebook, Instagram & Twitter
** NBWDC Monthly Meetings ** 
MARCH MEETING
Meeting Sponsor Opportunity:  Contact NBWDC for details 
Date:  Tuesday, March 20, 2018
Time:  5:30 P.M. Networking | 6:00 P.M. Annual Meeting & Elections 
Location: OASIS Senior Center Room #1, Ample Free Parking
Admission & Light Refreshments 
… Members: Free with RSVP; $10 if Walk-In
… Non-Members: $10 with RSVP; $15 if Walk-In
Guest Speaker Program – Pending Confirmation:
….Assembly District 74 Candidate Cottie Petrie-Norris
….OC Board of Education District 5 Candidate Mary Navarro
Agenda & Speaker Bios: Available here
RSVP Required by March 16: Use RSVP Form here
You may prepay your Admission by Credit Card by clicking on the button below.
APRIL MEETING
Meeting Sponsor Opportunity:  Contact NBWDC for details 
Date:  Tuesday, April 17, 2018
Time:  5:30 P.M. Networking | 6:00 P.M. Annual Meeting & Elections 
Location: OASIS Senior Center Room #1, Ample Free Parking
Admission & Light Refreshments:
… Members: Free with RSVP; $10 if Walk-In
… Non-Members: $10 with RSVP; $15 if Walk-In
Guest Speaker & Topic:  Pending Confirmation 
Agenda: Available Shortly
RSVP Deadline April 13: Use RSVP Form Here
You may prepay your Admission by Credit Card by clicking on the button below.
---
NBWDC's Indivisible Task Force
NBWDC's Indivisible Task Force on Activism is hard at work identifying activism opportunities and training. Be sure to follow the Task Force on social media for timely information and updates.  A copy of the Indivisible Guide is available here.
Call to Action – Week of February 4, 2018
Call to Action #1: Focus is on the 2018 Congressional Election so volunteer to do voter registration.  It is fun and critical for the election!
Contact:  Go to www.volunteersignup.org/JMMPA
Call to Action #2: Stand with people at risk of religion-based discrimination.
Call: Senators Harris and Feinstein, and Reps Rohrabacher or Walters
Script: Hi. I'm from [ZIP], calling about the US Dept. of Health and Human Services new division that condones discrimination against our own citizens. The denial of medical treatment is unconscionable and risks our neighbors' lives. I don't want providers who discriminate to receive governmental compensation. Can you tell me what [name] is doing to address this?
Bonus: Donate to Lambda Legal which represents people affected by this new HHS policy.
Call to Action #3: Stand with Americans who are poor, disabled, and/or unable to work.
Write or Call:   California's Medicaid director:
Mari Cantwell, Chief Deputy Director, Health Care Programs
California Department of Health Care Services
1501 Capitol Avenue, 6th Floor, MS 0000
Sacramento, CA 95814
Phone: (916) 440-7418
Script: Dear Ms. Cantwell, I am deeply concerned about the CMS letter on 1/12/18 allowing states to deny medical care to vulnerable citizens. With a majority of Medicaid enrollees already working, in school, or medically unable to work, compliance enforcement is an unnecessary waste of taxpayer money. We must take care of our neighbors in need. This new policy penalizes people living in poverty and with disabilities, cutting them off from a powerful poverty-reducing program. I entreat you to continue providing Medicaid to all Californians who need it. Thank you for your consideration.  [Your Name & town].
Call to Action Printable List
The printout of this week's Call to Action is available here.  It also includes contact information for local US Senators & Congressional Representatives
Read: The Hidden Agenda Buried in Tax Cuts
An article written by NBWDC Members Martha Peyton and Saboohi Currim
---
2018 Women's March
The March may be over, but not the battle for mid-terms.  Join us at our February 20 meeting and find out how you can help ensure democratic victories in November.
And we want to share our Women's March photos as an added incentive!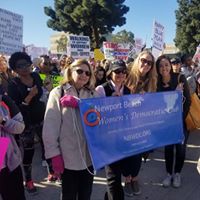 Don't forget to share your photos too.  Email them to us here.
---
Event Planner
››››› Upcoming Events
There are no events to display
---
2018 Elections
It's not too early to start planning for 2018 Elections.  The list of Democratic candidates for state and local races is growing. 
Candidates & Voters:  See information below.  Check frequently for updates.
Candidates:  Any Democratic candidate who wishes to speak at an NBWDC Event or seek an NBWDC Endorsement is required to fill out our Candidate Questionnaire which will then be reviewed for approval by our Program Committee.  NBWDC's Candidate Questionnaire is available for downloading here. 
Voters:  Candidate Information as of November 13, 2017:
Congressional District 45 Candidates (Mimi Walters, Incumbent) 
Congressional District 48 Candidates (Dana Rohrabacher, Incumbent
Congressional District 49 Candidates (Darrel Issa, Incumbent)

Voters:  Voter Registration Changes
Since the 2016 elections, have you:
Turned 18 and plan to vote in the upcoming elections
Had any change of address
Decided to change your party affiliation
If you answer yes to any of these questions, don't forget to register or update your voter registration.  There are several helpful online tools and forms which can be found here at OCVote.com.
Welcome to Our Club
---

Membership Has Its Benefits
Renew your membership or join now to receive full Club Benefits, such as voting rights, members' only news and invitations to special events. 
Membership is valid for from January 1 through December 31 each year.    Several membership categories are available (see below).  And you may conveniently pay for your Annual Membership by either credit card or by check.
Membership by Check
If you wish to pay by check, please print  our Application/Renewal Form, fill it out, attach your check and mail it to the address on the form or bring it to our next event.  We look forward to hearing from you. 
---
2018 Club Officers & Committees
Officers
President:  Rima Nashashibi
Vice President: Karen Hinks
Treasurer: Mikelle Fish
Secretary:
….Corresponding Secretary: Deborrah Lugo
….Recording Secretary/Membership:  Karen Tringali
Assistant Officer Positions Available
Assistant Treasurer: Open – Please Volunteer here
Assistant Recording Secretary: Cate Hardesty
Committees  
View our 2018 Committee Listing here
By-Laws
Adopted August 2017: Available here
Privacy Policy
Available here
Past President Roster
Immediate Past President: Mridula Udayagiri
Past President: Jean Hastings Ardell
Founding President: Dr. Suzanne Savary 
---
Questions or Comments?
Please fill out the form below to contact us by email.
Mailing Address & Phone
If you prefer to contact us by mail, please do so at the following address:
Newport Beach Women's Democratic Club
P.O. Box 11761
Newport Beach CA 92658
You may also leave a voicemail message at 949.423.6468.  We will return your call within two business days.
---
Volunteer Opportunity
For NBWDC: Our club's mission is to provide a forum for civil political discussions and promote and participate in activities that help educate members about local, regional, and national issues.  And it is so important in this election year that we are successful in accomplishing our mission.  Won't you help us?  We have a number of committee chairs who have specific roles and responsibilities and are always looking for a helping hand.  For example:
Communications & Social Media
Endorsements
Membership
Events Planning
Membership
Voter Outreach . . . and more
If you have an interest in any of these areas, please let us know.  Send us an email or leave us a phone message (949.423.6468) and we'll get right back to you.
---
Photo Albums – Enjoy!
Club Meetings & Events
---
Press & Commentary

OC Sheriff Hutchens Clarifies OCSD's Role in Immigration Enforcement
February 23, 2017 Statement here

News Briefs – June 2017

California Women Lead Newsletter
---
Speak Up
Letters and calls to our legislators, letters to editors, Social Media postings, conversations with friends.  These are all important tools to help get the word out and building support for issues that are important to women and Democrats.  Find an issue you are passionate about and do your part to join in the conversation.
US Senators and Representatives

Local Press Editors

Newport Beach Government Email Addresses

#StandwithPP Campaign (Planned Parenthood)
---
Our Mission
Our mission is to provide a forum for civil political discussions and promote and participate in activities that help educate members about local, regional, and national issues.
Our Club
The Newport Beach Women's Democratic Club was formed by a small group of like-minded Democratic women who were brought together by their desire for civil discussion around political issues. Within a short time, our club grew and became a notable presence in the Orange County Democratic community.
We promote democratic values through activism.  Our work includes get-out-the-vote efforts, presence at community events, and sponsoring forums for Democratic candidates as well as candidates for non-partisan offices.  We also speak publicly and take part in demonstrations. 
Club membership is open to women who are registered Democrats.  We also welcome registered Democratic men as non-voting associates.  While most members live in Newport Beach, we also value those from surrounding Orange County communities.
At our meetings and events, we welcome those who wish to be benefactors of our Club regardless of party affiliation.
For more information about our Club and Membership, please fill out the Contact Us Form above.
Our Privacy Policy is available at http://www.nbwdc.org/privacy-policy/
Our Accomplishments
The Newport Beach Women's Democratic Club was chartered by the Democratic Party of Orange County in February 2008.  Since then, we have accomplished much.  Here are a few of the highlights: 
Hosted 2016 Candidate Forums for Federal, State, Local and City elections
Worked directly with local elected officials to help support important legislation
Worked as a founding member to create the California Alliance of Democratic Women's Clubs
Supported our founding president's campaign for 48th Congressional District in 2016 and 2014
Staffed the Democratic Party of Orange County's voter registration booth at the Orange County Fair each year
Recognized by Planned Parenthood in 2015 as part of the OC Women's Coalition for work against abortion bans
Participated as a partner in the OC Women's Coalition against abortion bans at Hoag Hospital after its affiliation with St. Joseph's Catholic Hospital
Joined women's groups from around the county in 2014 to protest the U.S. Supreme Court's Hobby Lobby decision
Honored as Coalition Partner of the Year in 2011 by Planned Parenthood of Orange and San Bernardino Counties for our support of their organization.
---
September 15 2016 – Candidate Forum: Newport Beach City Council and Newport-Mesa Unified School District

---
August 8 2016 – Steyer Luncheon (CEO NexGen) Topic: Climate Change & Social Justice
L to R: Ardell, Savary, Steyer, Humphreys | Templeton, Hailey, Geerling | Ardell, Savary | Savary, Steyer, Humphreys, Stephens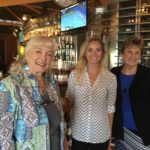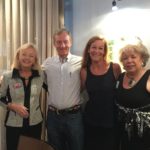 ---
May 2016 – State and Local Candidate Forum
L to R: Udayagiri, Kahn, Ali, Fox, Blair, Pinkston, Grayson, Nashashibi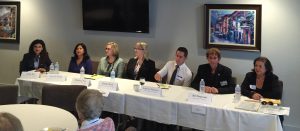 April 2016 – Federal Candidate Forum
L to R: Wolf (for Dunn), Gallagher, Nashashibi, Einwechter for Sanchez, Savary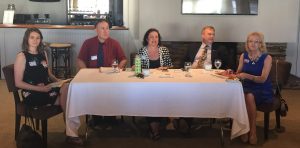 ---