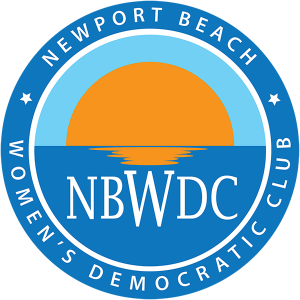 Advocating for Democratic values
in Newport Beach
and neighboring communities
Follow @NBWDC on Facebook, Instagram & Twitter
NBWDC's DROP 50 Campaign
Sign up here to help & have some fun!

Now that California's primary has been moved up to March 3 Super Tuesday, we have no time to lose.  NBWDC is developing its very popular "BLUE CARD" for Super Tuesday Democratic Candidates.  These cards highlight all the candidates in our local races who are down-ballot and often overlooked by voters. We want each and every seat to turn BLUE in 2020, and we need your help to make that happen. Simply commit to walk and deliver 50 cards to Democratic voters in your neighborhood, or a neighborhood of your choice.  We won so many seats in 2019 because of your willingness to participate in this GOTV effort.  Let's keep that same momentum in 2020.  Sign up here and have some fun!  Dates for the 2020 drop events will be announced shortly.
---
If you are interested in helping shape the Newport Beach YOU want to be proud of, we encourage you to attend as many of the General Plan workshops in this series as possible.  Only three left in this initial series.
December 3, 6:00 – 8:00 p.m. @ Central Library Friends Room – Dist 5 (Balboa/Fashion Islands)
December 11, 6:00 – 8:00 p.m. Bonita Creek Community Center – Dist 4 (East Bluff/Bonita Canyon)
December 12, 6:00 – 8:00 p.m. Marina Park Community Center – Dist 1 (Lido/Balboa Peninsula)
For more information about the General Plan Update process, please visit NewportTogether.com
---
2020 OC Women's March
Saturday, January 18, 2020
Plan to join NBWDC again this year and march together as members and friends.  Details will be provided as soon as they have been confirmed by the organizers. 
In the meantime, mark you calendar now, and let us know if you're planning to attend.  Use our RSVP form here so we can add you to our list!
Tuesday, January 21, 2020
Location: OASIS Senior Center (ample free parking)
Admission
… No charge for members
… $10 per guest with RSVP
… $15 per guest if Walk-in
RSVP Deadline January 17 – Use RSVP Form here
5:30 p.m. Doors Open for registration and networking
6:00 P.M. Meeting & Speakers Program  
Business Meeting
   … Announcement & Upcoming Events
   … 2019 Accomplishments & 2020 Goals
   … Officer Elections 2020-2022 Term
Speakers Program: Local Candidates 
    … Ashleigh Aitken, Candidate OC Board of Supervisors D3
    … Additional speakers pending confirmation
Agenda: Available here 
Voters & Candidates
Voter Registration

Since the last election, have you:
Turned 18 and plan to vote in the upcoming elections
Changed your address
Decided to change your party affiliation
If you answer yes to any of these questions, don't forget to register or update your voter registration. There are several helpful online tools and forms which can be found here at OCVote.com.

Our Elected Officials
A current listing of federal and state officials is available here. 

Candidates
Democratic candidates who wish to speak at an NBWDC event or who are seeking an NBWDC Endorsement are required to contact NBWDC's Programming Committee for criteria and scheduling.  Please use the form below.
Ways to connect with NBWDC
Mailing Address & Phone
Newport Beach Women's Democratic Club
P.O. Box 11761
Newport Beach CA 92658
Voicemail/Text @ (949) 423-6468
Membership Has Its Benefits
Renew your membership or join now to receive full Club Benefits, such as voting rights, members' only news and invitations to special events. 
Membership is valid for from January 1 through December 31 each year.    Several membership categories are available (see below).  And you may conveniently pay for your Annual Membership by either credit card or by check.
Membership options include:
$50: Women registered as Democrats

(Regular Member with full voting privileges)

$40: Any gender/any party affiliation

(Associate Member with limited voting privileges)

$20: Student Membership

(Full-time students only with valid ID)
Note:  Donations and payments to political-party organizations, like NBWDC, are not tax deductible. 
** Special offer through December:  If you join now, your membership starts immediately and won't expire until 12/31/2020 **
Membership by Check
If you wish to pay by check, please print  our Member Form, fill it out, attach your check and mail it to the address on the form or bring it to our next event.  We look forward to hearing from you. 
Still not sure you want to join? 
Take a look at all we've accomplished over the last couple of years . . . and having fun while we did!
Member Contact Information
Have you moved or changed any of your contact information?
We are required by our Club Charter to maintain accurate contact information for all our members of record.  If you have recently moved, changed your name, email address or phone number, please let us know so that we do not violate our charter requirements.
We have two convenient ways for you to let us know of these changes:
Thanks for helping us be in compliance with the California Democratic Party requirements.
2019 Club Officers & Committees
Officers
President:  Tara Steele
Vice President: Cate Hardesty
Treasurer: Mikelle Fish
Secretary:
….Corresponding Secretary: Deborrah Lugo
….Recording Secretary:  Karen Tringali
……Assistant Recording Secretary: Maureen Rust
With gratitude and thanks, we wish our outgoing officers (Rima Nashashibi, President and Karen Hinks, Vice President) best wishes in  their future endeavors.
Assistant Officer Position Available
Assistant Treasurer: Open – Please Volunteer here
Committees  
View our Committee Listing here
By-Laws
Adopted April 16, 2019 
Summary of April 2019 approved changes
Privacy Policy
Available here
Past President Roster
Immediate Past President: Rima Nashashibi 
Past President: Mridula Udayagiri
Past President: Jean Hastings Ardell
Founding President: Dr. Suzanne Savary
Committee Opportunity
Our club's mission is to provide a forum for civil political discussions and promote and participate in activities that help educate members about local, regional, and national issues.  One way to  help support our mission is to serve on a committee.  We have many opportunities for you to showcase your skills and passion.  For example:
Communications & Social Media
Events Planning
Membership Outreach 
Governmental Activism 
Voter Outreach . . . and more
If you have an interest in any of these areas, please let us know.  Send us an email or leave us a phone message (949.423.6468) and the appropriate committee chair will respond to you directly.
Speak Up!
Letters and calls to our legislators, letters to editors, Social Media postings, conversations with friends.  These are all important tools to help get the word out and building support for issues that are important to women and Democrats.  Find an issue you are passionate about and do your part to join in the conversation.
Local Press Contacts

Elected Officials – Federal and State

#StandwithPP Campaign (Planned Parenthood)
Newport Beach City Government
City Council Meeting Recaps
City Leadership Email Addresses
Our Mission
Our mission is to provide a forum for civil political discussions and promote and participate in activities that help educate members about local, regional, and national issues.
Our Club
The Newport Beach Women's Democratic Club was formed by a small group of like-minded Democratic women who were brought together by their desire for civil discussion around political issues. Within a short time, our club grew and became a notable presence in the Orange County Democratic community.
We promote democratic values through activism.  Our work includes get-out-the-vote efforts, presence at community events, and sponsoring forums for Democratic candidates as well as candidates for non-partisan offices.  We also speak publicly and take part in demonstrations. 
Club membership is open to women who are registered Democrats.  We also welcome registered Democratic men as non-voting associates.  While most members live in Newport Beach, we also value those from surrounding Orange County communities.
At our meetings and events, we welcome those who wish to be benefactors of our Club regardless of party affiliation.
For more information about our Club and Membership, please fill out the Contact Us Form above.
Our Privacy Policy is available at http://www.nbwdc.org/privacy-policy/
Our Accomplishments
The Newport Beach Women's Democratic Club was chartered by the Democratic Party of Orange County in February 2008.  Since then, we have accomplished much.  Here are a few of the highlights: 
Hosted 2016 Candidate Forums for Federal, State, Local and City elections
Worked directly with local elected officials to help support important legislation
Worked as a founding member to create the California Alliance of Democratic Women's Clubs
Supported our founding president's campaign for 48th Congressional District in 2016 and 2014
Staffed the Democratic Party of Orange County's voter registration booth at the Orange County Fair each year
Recognized by Planned Parenthood in 2015 as part of the OC Women's Coalition for work against abortion bans
Participated as a partner in the OC Women's Coalition against abortion bans at Hoag Hospital after its affiliation with St. Joseph's Catholic Hospital
Joined women's groups from around the county in 2014 to protest the U.S. Supreme Court's Hobby Lobby decision
Honored as Coalition Partner of the Year in 2011 by Planned Parenthood of Orange and San Bernardino Counties for our support of their organization.
Newport Beach Women's Democratic Club
Post Office Box 11761
Newport Beach, CA 92658
NBWDC.org
Voicemail/Text: (949) 423-6468
Paid for by the Newport Beach Women's Democratic Club, FEC ID# C00570168