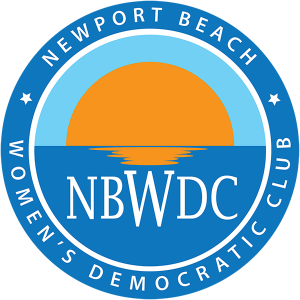 Serving the Democratic Voice of
Newport Beach
and Neighboring Communities
Follow @NBWDC on Facebook, Instagram & Twitter
August NBWDC Meeting
Meeting Sponsor Opportunity:  Contact NBWDC for details 
SOLD OUT.  Wait List begins August 17 (see below).
Date:  Tuesday, August 21, 2018
Earlier Time:  5:30 P.M. Networking | 6:00 P.M. Meeting & Program 
Location: OASIS Senior Center Room #1, Ample Free Parking
Admission & Light Refreshments:
… Members: Free with RSVP; $10 if Walk-In
… Non-Members: $10 with RSVP; $15 if Walk-In
Meeting Program: 
… Harley Rouda, Candidate: CA 48 Congressional District
… Katie Porter, Candidate: CA 45 Congressional District
… Andrea Marr, Candidate: Costa Mesa City Council District 3
… Katrina Foley, Candidate: Costa Mesa Mayor
Agenda: Available here
SOLD OUT: If you would like to add your name to our Wait List below, we will contact you by email after 5:00 p.m. on August 20 to let you know if any seats have opened up.  Wait List available here
Save time.  Prepay your Admission by Credit Card below.
---
Save the Date – Upcoming Events

Friday, August 24, 2018, 6:30 p.m.
Reception/Dinner: Blue Momentum PAC
Featuring Congressman Ted Lieu
Details and Ticket information here 
---
Saturday, August 25, 2018, 3:00 p.m.
Afternoon Newport Beach Reception
Harley Rouda, Candidate: US CD 48
Details available here
---
2018 Truman Awards Dinner
Saturday, August 25, 2018, 5:30 PM – 9:00 PM (Doors open 5:00 pm)
Sponsors' Reception and Silent Auction: 5:30-6:30 pm
Dinner Program: 6:45 pm – 9:00 pm
Hilton Costa Mesa/Orange County, 3050 Bristol Ave, Costa Mesa CA
Ticket Prices are $225 (Valid 7/29 through 8/24) and are available through DPOC here.
---
9/8 Save the Date: Flip the House – California's Magnificent Eight
As you know, we have to WIN in the upcoming general election. It is a matter of survival on all fronts. Human rights, civil rights, Women Rights, Immigrant rights, the environment, foreign policy and so much more.
So please ACT NOW and help us raise the money we need to get the following candidates elected. Dinner and reception tickets available. Let's pull out the stops and support these important candidates with a WIN in their sights.  Information and tickets available here. 
Josh Harder CA-10
TJ Cox CA-21
Andrew Janz CA-22
Katie Hill CA-25
Gil Cisneros CA-39
Katie Porter CA-45
Harley Rouda CA-48
Mike Levin CA-49
Save time.  Prepay your Admission by Credit Card below.
---
Call to Action

How to Get Involved – Stop Family Separation at Border
Urgent Issue: Stop Separating Families at the Border: Nearly 2,000 migrant children have been separated from their parents at the border as part of the Trump administration's controversial "zero tolerance" policy on border crossings — and many people are looking for ways to help the families.
Support the Keep Families Together Act
Call: Senator Diane Feinstein (202) 224-3841
Script: Hi, my name is [NAME] and I'm a constituent from (Insert CITY).   I'm calling to thank Senator Feinstein for supporting S. 3036, the Keep Families Together Act, and ask that the Senator continue to shed light on this practice by visiting with detainees and pressuring the Trump administration to reverse course. Thank you for your time and attention.
[IF LEAVING A VOICEMAIL: please leave your full street address to ensure your call is tallied]
Maintain Asylum Grants for Victims of Domestic Abuse and Gang Violence
Call: Dana Rohrabacher (202-225-2415) and ask him to condemn the mistreatment of asylum seekers and the inhumane practice of separating children from their parents.
Script: Hi, my name is (NAME) and I'm a constituent from (YOUR CITY). I'm calling to express my strong opposition to the Justice Department's decision to stop granting asylum to victims of domestic abuse and gang violence. It is absolutely unacceptable to send vulnerable individuals in need of protection back into violent circumstances. I ask that Congressman Rohrabacher publicly condemn the Trump administration's unfair and dangerous treatment of asylum seekers. Thank you for your time and attention.
IF LEAVING A VOICEMAIL: Please leave your full street address to ensure your call is tallied.
Donate to Civil Rights Organizations near the border
Donate to local civil rights organizations near the border — that are working to help in other ways, assigning lawyers to work pro bono with the families and providing translators.
---
2018 Elections
Candidates:  Any Democratic candidate who wishes to speak at an NBWDC Event or seek an NBWDC Endorsement is required to fill out our Candidate Questionnaire which will then be reviewed for approval by our Program Committee.  We offer two easy ways to to this:
Download the PDF version, complete and return by email or USPS mail

Voters:  Candidate Information for Democratic 2018 General Election can be found here
US Congressional
State Assembly
County Level Candidates
Local City Councils

Voters:  Voter Registration Changes
Since the 2016 elections, have you:
Turned 18 and plan to vote in the upcoming elections
Had any change of address
Decided to change your party affiliation
If you answer yes to any of these questions, don't forget to register or update your voter registration.  There are several helpful online tools and forms which can be found here at OCVote.com.
Welcome to Our Club
---

Membership Has Its Benefits
Renew your membership or join now to receive full Club Benefits, such as voting rights, members' only news and invitations to special events. 
Membership is valid for from January 1 through December 31 each year.    Several membership categories are available (see below).  And you may conveniently pay for your Annual Membership by either credit card or by check.
Membership options include:
Regular Membership (Women registered as Democrats): $50
Associate Membership (Any gender or party affiliation): $40
Student Membership (Full-time students only): $20
Note:  Donations and payments to political-party organizations, like NBWDC, are not tax deductible. 
Membership by Credit Card
Membership by Check
If you wish to pay by check, please print  our Application/Renewal Form, fill it out, attach your check and mail it to the address on the form or bring it to our next event.  We look forward to hearing from you. 
---
2018 Club Officers & Committees
Officers
President:  Rima Nashashibi
Vice President: Karen Hinks
Treasurer: Mikelle Fish
Secretary:
….Corresponding Secretary: Deborrah Lugo
….Recording Secretary/Membership:  Karen Tringali
Assistant Officer Positions Available
Assistant Treasurer: Open – Please Volunteer here
Assistant Recording Secretary: Cate Hardesty
Committees  
View our 2018 Committee Listing here
By-Laws
Adopted August 2017: Available here
Privacy Policy
Available here
Past President Roster
Immediate Past President: Mridula Udayagiri
Past President: Jean Hastings Ardell
Founding President: Dr. Suzanne Savary 
---
Questions or Comments?
Please fill out the form below to contact us by email.
Mailing Address & Phone
If you prefer to contact us by mail, please do so at the following address:
Newport Beach Women's Democratic Club
P.O. Box 11761
Newport Beach CA 92658
You may also leave a voicemail message at 949.423.6468.  We will return your call within two business days.
---
Volunteer Opportunity
For NBWDC: Our club's mission is to provide a forum for civil political discussions and promote and participate in activities that help educate members about local, regional, and national issues.  And it is so important in this election year that we are successful in accomplishing our mission.  Won't you help us?  We have a number of committee chairs who have specific roles and responsibilities and are always looking for a helping hand.  For example:
Communications & Social Media
Endorsements
Membership
Events Planning
Membership
Voter Outreach . . . and more
If you have an interest in any of these areas, please let us know.  Send us an email or leave us a phone message (949.423.6468) and we'll get right back to you.
---
Photo Albums – Enjoy!
Club Meetings & Events
---
Press & Commentary

OC Sheriff Hutchens Clarifies OCSD's Role in Immigration Enforcement
February 23, 2017 Statement here

News Briefs – June 2017

California Women Lead Newsletter
---
Speak Up
Letters and calls to our legislators, letters to editors, Social Media postings, conversations with friends.  These are all important tools to help get the word out and building support for issues that are important to women and Democrats.  Find an issue you are passionate about and do your part to join in the conversation.
US Senators and Representatives

Local Press Editors

Newport Beach Government Email Addresses

#StandwithPP Campaign (Planned Parenthood)
---
Our Mission
Our mission is to provide a forum for civil political discussions and promote and participate in activities that help educate members about local, regional, and national issues.
Our Club
The Newport Beach Women's Democratic Club was formed by a small group of like-minded Democratic women who were brought together by their desire for civil discussion around political issues. Within a short time, our club grew and became a notable presence in the Orange County Democratic community.
We promote democratic values through activism.  Our work includes get-out-the-vote efforts, presence at community events, and sponsoring forums for Democratic candidates as well as candidates for non-partisan offices.  We also speak publicly and take part in demonstrations. 
Club membership is open to women who are registered Democrats.  We also welcome registered Democratic men as non-voting associates.  While most members live in Newport Beach, we also value those from surrounding Orange County communities.
At our meetings and events, we welcome those who wish to be benefactors of our Club regardless of party affiliation.
For more information about our Club and Membership, please fill out the Contact Us Form above.
Our Privacy Policy is available at http://www.nbwdc.org/privacy-policy/
Our Accomplishments
The Newport Beach Women's Democratic Club was chartered by the Democratic Party of Orange County in February 2008.  Since then, we have accomplished much.  Here are a few of the highlights: 
Hosted 2016 Candidate Forums for Federal, State, Local and City elections
Worked directly with local elected officials to help support important legislation
Worked as a founding member to create the California Alliance of Democratic Women's Clubs
Supported our founding president's campaign for 48th Congressional District in 2016 and 2014
Staffed the Democratic Party of Orange County's voter registration booth at the Orange County Fair each year
Recognized by Planned Parenthood in 2015 as part of the OC Women's Coalition for work against abortion bans
Participated as a partner in the OC Women's Coalition against abortion bans at Hoag Hospital after its affiliation with St. Joseph's Catholic Hospital
Joined women's groups from around the county in 2014 to protest the U.S. Supreme Court's Hobby Lobby decision
Honored as Coalition Partner of the Year in 2011 by Planned Parenthood of Orange and San Bernardino Counties for our support of their organization.
---
September 15 2016 – Candidate Forum: Newport Beach City Council and Newport-Mesa Unified School District

---
August 8 2016 – Steyer Luncheon (CEO NexGen) Topic: Climate Change & Social Justice
L to R: Ardell, Savary, Steyer, Humphreys | Templeton, Hailey, Geerling | Ardell, Savary | Savary, Steyer, Humphreys, Stephens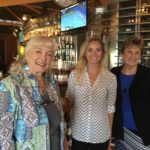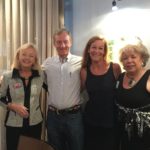 ---
May 2016 – State and Local Candidate Forum
L to R: Udayagiri, Kahn, Ali, Fox, Blair, Pinkston, Grayson, Nashashibi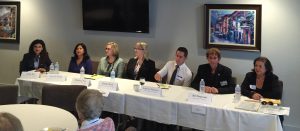 April 2016 – Federal Candidate Forum
L to R: Wolf (for Dunn), Gallagher, Nashashibi, Einwechter for Sanchez, Savary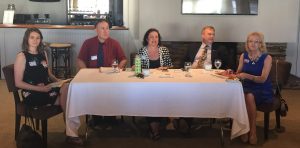 ---